These are days 10-11 of a trip to Alaska, part 9 of 11. Click here for the prior and next entries.
Bernd got a rental car delivered to the hotel and we drove to Starbucks for br
eakfast. We met the owner and also spotted a flyer for free guided nature hikes, one at 2pm. We checked out of the family hotel and into the hostel on Takhini hot springs road next to the public hot pools. Lunch at Whisky Jacks and saw David again. Stopped by the airport to get our sleeping bags out of the plane, then went to the float plane base S of town for the nature hike.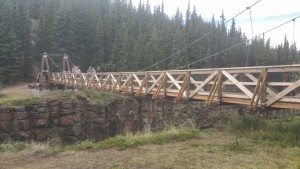 Ingrid and Janie led the hike. They were friendly and knowledgable, and we had a nice group of about 10 people. We hiked out & back the scenic Miles Canyon trail, learned about local history, saw a bear swim across the river and climb up on our side about 1/4 mile away.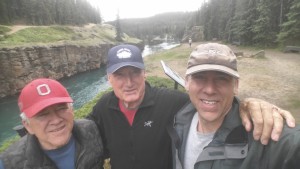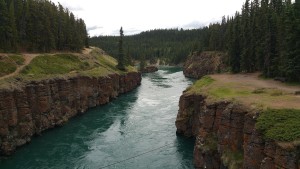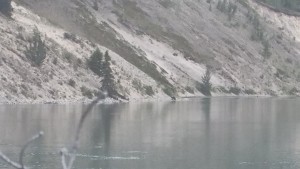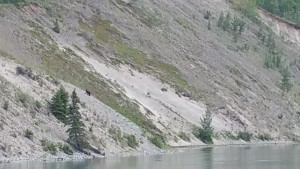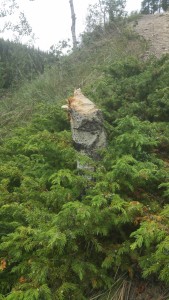 After the hike we returned to the Takhini springs hot pools and spent over an hour in the water. We emerged completely enervated yet relaxed.
Bad weather was coming in and we'd be stuck in Whitehorse for another day or two.
At the hostel, another family checked in. They were a Swiss family of 5 and had spent the past 5 days hiking the pass from Skagway to Whitehorse.
Day 11, the bad weather had arrived. No way we'd be getting out today. We breakfasted at Bean North, lunched at the pizza place, and spent a few hours visiting the Yukon Transportation Museum.
We returned to the hot pools and met a Canadian couple, who recommended Ft. St. John as the best place to get stuck, of all the towns we'd hit along the way home. Back to town for grocery shopping, then back to the hostel. Met another arriving family, the parents were both teachers with 2 teenage daughters. We watched another movie and hit the sack.