This is day 13 of a trip to Alaska, part 11 of 12. Click here for the prior and next entries.
We breakfasted at the hotel then took a cab back to the airport to rent a car.  The bad weather that came in the prior night was fully upon us today. The airport was IFR. While there, I checked my airplane. It wasn't tied down because I was on the grass, and the grass was a thin layer over hard concrete-like Earth so my screw-down grass stakes wouldn't dig in. It was fine.
We drove to the local rodeo, but there was hardly anyone there except for the participants, and we didn't want to sit outdoors in the rain to watch it. We'd come back tomorrow if we were still stuck here in Ft. St. John with better weather.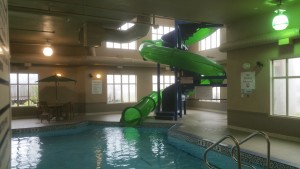 The hotel had a pool with a big spiral slide, so we stopped at the local Walmart to get swim trunks. I also replaced the charger I had left in Gulkana. We lunched at the Canadian Brewhouse, which was a decent place. Then returned to the hotel, went swimming, sliding and hot-tubbing for a couple of hours. We ate dinner at a local Greek place, the Olive Tree. Bernd called his old friend Pete the Greek from Sebastopol who spoke with the restaurant owner. Both grew up in nearby towns in Greece.
That evening we finished what little whisky we had left and hoped for good weather the next day. If we were lucky, we'd make it all the way home.